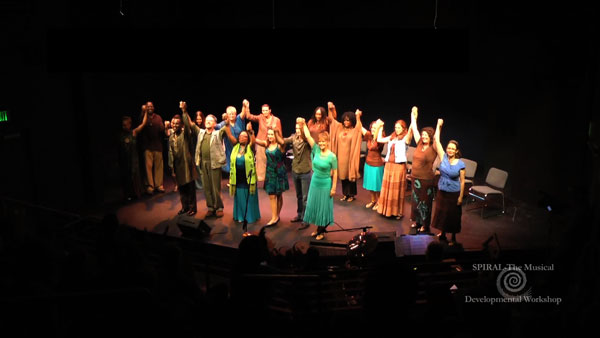 Creating a musical is a long and arduous process, that encapusulates so much creative output by so many people. The support of our investors, all the members of our casts, the help we have had from logistical companies, and even the kindness of strangers, play into the successful development of a musical theater piece. All are vital strands in the fabric of its success.
We are honored to name those people and organizations here. The people who have contributed and assisted us through the process of putting the Workshop up, recording songs, who volunteered their time, talent and excellence are incredibly important to us, because they were - and are - a part of the process that births a great idea. As the story moves forward, all of us are fully aware that a musical is a bigger project than any one of us - that the creative process, which is based in a social environment and art form, takes on a life of its own.
Cogniscent and humbled by this, we honor those who have touched us so deeply:
A HUGE Thank You to the Workshop Cast and Crew!
We are forever grateful to our first wave of Spiral family, for all your enormous talents, your generosity and dedication – we know how often you showed up at rehearsals (despite LA traffic!) with unbridled enthusiasm for this musical and with such great artistry, it made every moment of "playing" together, a joy!
Jade Tailor (Camaya[Natasha]) Stuart Howard (Norbert) Michael D'Elia (Josh) Brenda Lee Eager (Tribal Shaman) Catherine Kinsman (Lana/Director/Producer) Ray Davis (Doc Ray) Candace Carnicelli (Lawyer/State Official) Victor Dickerson (Narrator/Vocal Ensemble) Elizabeth Greene (G.R.A.C.E. Friend/ Vocal Ensemble) Cami Elen (G.R.A.C.E. Friend/ Vocal Ensemble) Jeudi Cornejo Brealey (G.R.A.C.E. Friend/ Vocal Ensemble) Valerie Chevaughn Frugé (G.R.A.C.E. Friend/ Vocal Ensemble) Judy Waters (Carla/Vocal Ensemble) Alyson Fainbarg (Worker/Vocal Ensemble) Lexie Cole (Environmentalist/Vocal Ensemble) Arnae Batson (Vocal Ensemble) Barbara Rayliss (Vocal Ensemble) Pamela Woodlief-McCullough (Vocal Ensemble) Ben Dowling (Music Director) Mitchel Forman (Piano Accompanist) Xavier Marshall (Percussionist) Ken Petersen (Co-producer, Videographer, Video Production) Marci Levine (Co-producer) Ashley Fuller (Acting Coach, Co-Director, Co-Producer) Judy Waters (Choreographer) SeSe Abejon (Live Sound Engineer - NoHo Theatre) Wes Chew (Lighting Operator) Joy Grigorian (Stage Manager) Larry Sepulveda (Assistant Stage Manager) Kevin Bailey (NoHo Arts Center) Katherine Woodward-Thomas (Circle of Evolutionary Advisors) Claire Zammit (Feminine Power) Elizabeth Dickerson (Vocalist) The Rosewood Center For Transformation AND TO….The Audience members for your invaluable support and feedback!
Additional Creatives:
We are also honored to have the following recording artists and other "creatives" as a part of our efforts:
Jade Taylor - Camaya vocal recording Paula Newsome - Camaya vocal recording
Holland Mariah Grossman - Camaya vocal recording
Miranda Reynolds - Camaya vocal recording Angel Travis - Lana vocal recording Ben Dowling - Foreman vocal recording Stuart Howard - Norbert vocal recording Nailah Porter - Lana vocal recording Arnae Batson - vocal recording Ray Davis - Ray vocal recording Brenda Lee Eager - Shaman vocal recording Catherine Kinsman – Lana/Ensemble vocal recordings Lucinda Winslow - Story & Script Advisor