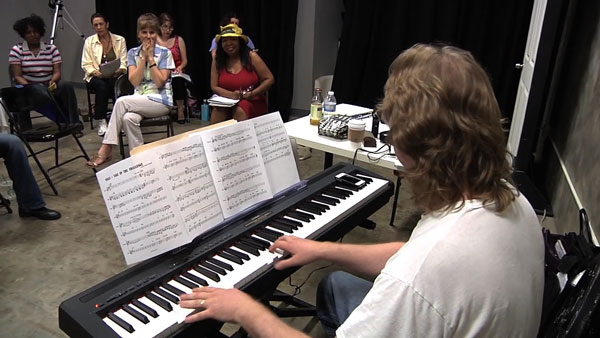 Ben Dowling at the piano, Catherine and Brenda with cast members
One of the "stages" of growing a musical to maturity is helping it find it's legs by presenting the current state of the work before live audiences, using their feedback to evolve the story, characters and songs to be the best they can be. Our first developmental workshop concluded with two successful staged readings of selected songs and scenes in June 2012 at the NoHo Theartre in Los Angeles. To achieve that milestone, Spiral needed an entire "family" of creative artists, a month of rehearsals and the dedicated efforts of many...
The Backstory // How the "real magic" of Spiral began…
Catherine Kinsman – originator, composer, lyricist, book writer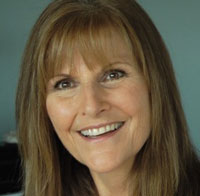 One afternoon in October 2010, I hopped off the treadmill and glided toward my living room, suddenly singing words not my own, to a melody completely new to me. Now, let me say at the outset, to simultaneously "download" a new melody and lyrics, is a way I've always written songs. At times its like they just write themselves. A lot of artists experience that. Yet, somehow this time was different.
Curious, I sang the phrases again, then asked, "What IS this? WHO is singing this?" Immediately the answer came as the next stanza, only to my amazement, it clearly was another point of view. Another… "character." "These are characters?... What! This is a musical!," I blurted aloud. "I'm writing a musical?!?!"
Now, I've always loved musicals, performed in several many years ago and, as a songwriter, I've often been "accused" by some of my songwriting friends, of penning music "that would make Disney very happy!" So why was I surprised? …maybe, because something of such enormity like a musical, arose out of the blue and not from a conscious process…
Immediately, I sat down to my piano and grabbed a notebook. Scribbling the words and plunking out the chords I was hearing in my head, I wondered what would come next… right away, characters "answered" with an enchanting song, Circle of Light. In a matter of minutes, where there had only been the drone of a treadmill and the scuffling of my feet, now there were the voices of a woman and her nephew having an emotional disagreement, then her friends evoking the memory of when she first heard the resplendent guidance of her own inner wisdom. If that's not real magic, I don't know what is!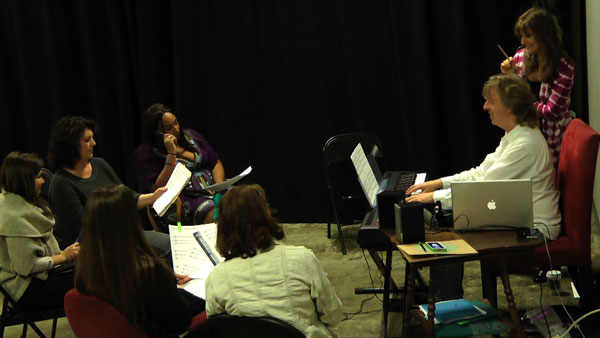 I couldn't stop thinking about it, singing it, playing it and over the next few months I didn't force anything, but simply allowed - a full song here, some dialogue ideas there, a verse, melody fragments, lyrics, more character and story ideas - all evolving, filtering through. I tried out every one of them on my partner Ken, who has never failed to be an honest and great sounding board for this passion that soon became much bigger than me. I knew I needed to find other creatives with whom to make more "real magic". I had no idea who they would be or where I would find them, but like my story's character, I listened both to logic and to something deeper.
It so happened that for some time, I'd been immersing myself in the subject of "Conscious Evolution" – books, courses, practicums and on-line communities. I had the potent experience of frequently joining hundreds of people around the world – to "push the edges of what we understood and believed" about self, humanity and the entire Universe. If Einstein was right that humankind cannot solve its problems with the same thinking that created them, then I wanted to know how we evolve our consciousness for the sake of a better world and future. This expansive concept was like a mysterious muse, informing my new burst of creativity and calling me to adventures unknown.
In the spring of 2011, as I booked my plane ticket to attend a 3-day workshop by Barbara Marx Hubbard (the grandmother of Conscious Evolution), I had a thought. "If I'm going all the way to LA, I should stay an extra couple of weeks, just to allow for possibility…"
What I didn't anticipate, were the unimaginable twists and turns that stretched those three weeks into three months, spawned some of my greatest creative partnerships and cherished friendships, and sparked quantum leaps in the unfolding development of the musical I named, Spiral.
---
Ben Dowling - pianist, composer, songwriter, story contributor, music director: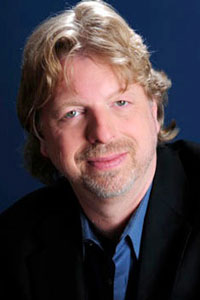 So I get this call from Catherine, who tells me that two people have pointed her in my direction to assist with a musical she has been working on. Now, please understand, I've never written anythink like a musical before. I've been a producer, a session player, a music director - but always for recording type projects - never theatrical ones.
My response was, well I'm happy to meet if you want to hire me for the time I spend...
In business, we often forget the real reason we do what we do.
In such a way, I was introduced into the world of Spiral. I never intended to "get the bug" and actually get involved. After all, don't we deserve our independence? Why should we get committed to some "pie in the sky" project that won't see the light of day?
Right?
Wrong!
I have been so honored to be involved in such a lovely project. I never thought I would, but I started pulling in friends and calling in favors. That was 2 years ago. I never realized what the development of a musical really entailed. I was used to a record project that lasted a couple months at the outside, and then I could "move on with my life." I had no idea what I was getting into.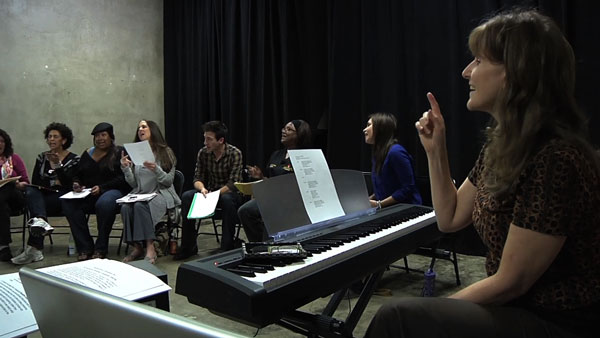 Catherine at the piano with cast...
I didn't know that we have write the material and re-write the material - and then re-write it all again, and to work with people who had skill sets I've never heard of.
I didn't know that there were musical directors and players who could do it all better than I could, and that - in time - I would have to be willing to let them do the job better than me!
I didn't know that the story was the central focus of everything, and that the songs had to contribute in precisely the right way, or - no matter how good the music - it had to be set aside.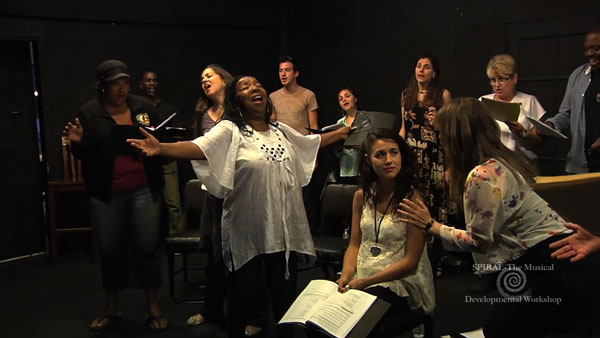 Brenda, Jade and cast at sound check...
But then something shifted.
The story and the characters took over, and I no longer had a choice. I saw and experienced something that I haven't experienced before, and now I LOVE musicals.
Musicals are where melody has not been forgotten. Musicals are where every creative opportunity can be used in an organic way - from the story, the crafting of the music, the design and flow, to the sound design, lighting and technical skills to make the artistic point so very clear.
So, I'm a fan now - where I thought I couldn't be impressed anymore. What a significant thing to happen in my life.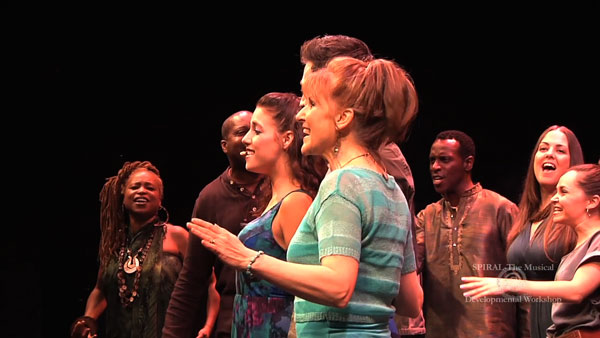 At the Workshop performance - Catherine and Jade in foreground, Arnae Batson at left...
---