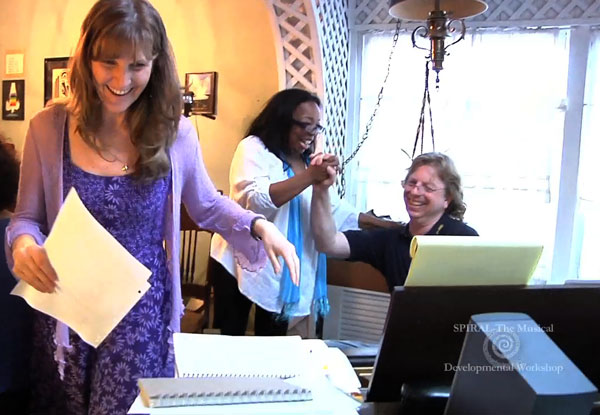 Catherine Kinsman, Brenda Lee Eager and Ben Dowling
Catherine Kinsman - Composer, Lyricist and Creator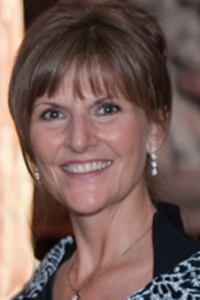 Catherine was first touched by the magic of musicals at age 5, when her Grandma took her to see "The Sound of Music" and "Mary Poppins". Enchanted by the music, imagery, the characters and stories, little "Cath" walked out of the theatre singing many of the songs, the first steps toward her destiny path as performer, composer, lyricist and writer.
In high school and college she played leading ingénue roles in operettas and musicals including Pirates of Penzance, Tom Jones, The Boyfriend and Good News. After graduating from the Sheridan College, Music Theater program in Oakville, Canada, her early professional career included Laurie (Oklahoma), Cinderella, Broadway-style reviews and touring with her show-band.
As a singer-songwriter, Catherine wrote, recorded and released several singles and first album on her own indie label, topping adult contemporary charts in Canada with her songs, In the Movies and Play Me Carl.
Later, as a devoted advocate for animals and the environment, she wrote and produced her second CD, The Promise. The title song and music video was dedicated to the freedom of dolphins and used in campaigns by organizations world-wide. This led Catherine in 1998, to create the non-profit Whale Stewardship Project, where she became the first in the world to officially study and protect young orphan beluga whales. Committing several years to this pioneering work, she became the "go-to" expert in her field and published author of both scientific and popular articles all the while co-producing documentary shorts, writing and story editing for TV (Dreamwrecks, Racing The Wind) and composing theme songs.
She wrote and performed the song Your Friend, in tribute to Luna, star of the 2012 award winning documentary feature film, The Whale, narrated by Ryan Reynolds. The music video is a special feature on the movie's 2013 DVD release.
Catherine's diversity of experience coupled with her lifelong interest in spiritual wisdom, sparked her quest to understand the deeper and evolving nature of consciousness and she began studying the work of many of the world's Conscious Evolutionary leaders. By 2010, when she had returned to music full time, it was with a commitment to create music, lyrics and story that might just effect the way humanity see's itself, other life on Earth, spirit and what is possible for our future. Catherine herself, was most surprised by how this passion would begin to manifest...as a musical, called Spiral.
---
Brenda Lee Eager - Composer and Lyricist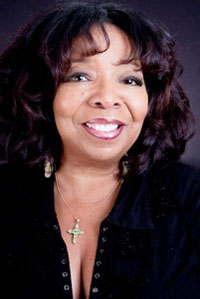 From the farm county of Lower Peachtree, North of Mobile Alabama, you might not expect a chart-topping musical powerhouse to emerge, and yet Brenda Lee Eager did just that. Beyond her original songs recorded by Aretha Franklin, Ray Charles and Prince, Brenda has a heart and voice as big as the world - having performed with the most important artists in American music history: Stevie Wonder, Diana Ross, Donny Hathaway, Roberta Flack, Graham Nash and the inimitable Ray Charles.
Brenda started her singing career like so many other greats: in church. Having established a secure partnership between her music and her spiritual path, she moved to Chicago landing the coveted female lead with Jerry Butler's group (Motown), and was later co-featured with Jerry in his famous Billboard "Certified Gold" hits: "Ain't Understanding Mellow" and "(They Long To Be) Close To You."
But these accolades are a small part of what makes Brenda such a powerful writer and lyricist. Brenda inherently understands the relationship between storytelling and the song. Every song she creates retains a compelling sense of narrative - never losing sight of the authentic life story balanced with a deep humanity encapsulated in the melody and lyric.
Having penned several one-woman and theatrical shows of her own, Brenda is no stranger to the theater, but it is her contribution as Spiral's "Soul Songstress" that completes the writing team. She acts as the leavening between Catherine's musical-theater sensibility and Ben's raw musicianship. In a world where balance is key, Brenda provides exactly that - in addition to her temporary role as one of the principle characters (Shaman) in developmental readings of the musical.
Perhaps the best way to encapsulate Brenda's power and profundity is to quote her directly:
"Music is central to my life. It's between God and music - and a lot of the time I consider those two words to be nearly interchangeable. Spiral spoke to me immediately as a woman of color and a person who cares deeply for the environment and the people living in the rainforest. It also addresses a key spiritual understanding that I practice in my life. That the musical calls upon my abilities as a songwriter is a great opportunity to serve ALL the purposes for which I am here. Working with Catherine and Ben has been and continues to be one of the peak experiences of my professional career. I can't think of a better way to speak of the profoundly important than through our collective voice and this story of magic, of vision and of love."
---
Ben Dowling, Composer and Lyricist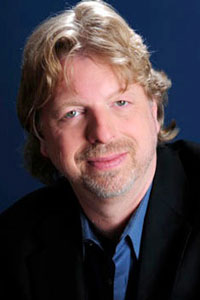 "I never EVER expected to fall in love with writing musicals!" claims pianist and composer Ben Dowling. This classically-trained jazz musician—who has toured the world with Earth, Wind and Fire's Al McKay, improvised with Berlin Philharmonic principle-cellist Georg Faust, recorded with Michael Jackson, scored Golden-Eagle-winning documentaries and programmed for synth manufacturers Korg and Yamaha—probably seems an ill fit for musical theater.
And yet, that is exactly where he belongs.
Dowling is a self-acclaimed melody maker: "There are very few venues for real melody anymore. Pop music no longer wants it. Most the experimental music is more concerned with texture and technology than it is with melody. But that is what I do: I'm a melody maker. And musical theater is the one place where that still makes sense - kind of the last bastion for what I do. And thus, I have been entirely captivated by the form!" Dowling enthuses.
"In the beginning of my work on Spiral, I approached songwriting as I had in the pop world," Dowling shares. "In that realm when I write with Siedah Garrett (Michael Jackson), the Whispers, or with Jon Anderson (Yes), I work to create powerful chorus 'hooks' that can be repeated throughout the song. It did not take much time to realize that the musical, as a form, is more a function of storytelling that unfolds linearly—rarely repeating anything. I actually learned that sensibility from my work with Carl Anderson (JC Superstar), Brenda Russell (Color Purple) and Charles Holt (Lion King, Smokey Joe's Café, JC Superstar). Musicals need the music to be staged so that there is always something happening that forwards the story."
As a producer of recording artists - including award-winning recordings of pop, jazz, classical and gospel, Dowling finds value in his wide-ranging musical influences. "Spiral has been terrific for exploring different indigenous sounds and musical models," he said. "I get the opportunity to 'mix it up' as a composer, and that keeps me on my toes." An early adopter of music technology which developed into a history-making employment at Korg synthesizer's R&D division, Dowling was an early pioneer in the exploration of new forms of sound synthesis, sampling, audio processing and surround-sound. "Spiral lends itself so well to enveloping the audience in a sonic and spatial field—returning me to my synthesis roots. I'm so looking forward to flushing out some of those ideas."
Collaborating with other artists seems to be thematic in Dowling's life, demonstrated with his multi-media exploration with painter and visual artist Mark Wagner in his award-winning solo-piano DVD release The Path of Peace, his jazz fusion project World Rising, his film scores, performances at top venues around the world and his latest recording, Dreams and Fantasies, a series of improvisations with Georg Faust (Berlin Philharmonic), scheduled for release in 2015.
In short, Ben Dowling is perfectly suited to this next step in his rather extraordinary musical career. "I am so honored to work with both Catherine, Brenda and Ken on this important and powerful project. Spiral is a story that is important for so many reasons: It addresses a critical environmental issue coming at a vital time for the planet and for a people who deserve a fair shake in a hyper-sensitive part of the world. What better function can an artist play?"
---
Kenneth Petersen - Contributing Writer & Video Producer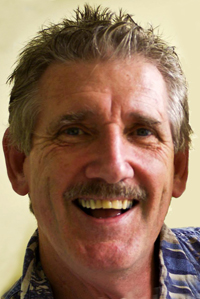 Ken Petersen's involvement in Spiral the Musical has brought him full circle in a rich and varied entertainment career. In the two decades following his theater studies at the University of Windsor, Ken honed his keen sense of story, character-development and staging, by directing more than 50 plays and musicals—including the award-winning Rosencrantz & Guildenstern Are Dead and Taming of the Shrew, which won ACT Awards in 1981 and 1984. Kiss Me Kate, Cabaret, Elephant Man and Amadeus are also among his more memorable contributions to the Toronto theater scene.
Concurrent with his extensive work in theater, Ken studied Film and TV Production at Toronto's Humber College, embarking on a highly successful career as a video editor for multiple award-winning productions: CBC's hit series "This Hour Has 22 Minutes," sci-fi series "Mission Genesis" and feature-length documentary "Here I Am: Denny Doherty and the Mamas & the Papas." Currently based in Halifax, Nova Scotia, Ken continues to be a highly sought-after editor and colorist and is an active member of the Director's Guild of Canada.
In 1990, Ken co-founded Vital Scenes Productions, a video-production company dedicated to expressing important social and environmental themes. Vital Scenes award-winning films include the powerful "Where Whales and Humans Meet," which received three merit awards at the International Wildlife Film Festival in 2000.
In 2009 Ken also directed the music video "We'll find a Way," as part of a larger project that brought several Canadian East Coast Artists together to record and perform a song that encourages each of us to do our part to help save the planet. The song plus a compilation CD were used to raise awareness and funds in support of several environmental organizations.
Ken is now in development of a documentary inspired by his just completed trip to the Amazon rainforest, "My time with the Shuar people in Ecuador touched me in ways that I had not anticipated," he shared recently. "I came away with an even greater resolve to do what I can to support them in their efforts to protect their ancestral home and way of life. This, in addition to bringing deeper insight and authenticity to my role as co-creator of the story of Spiral."
A vital member of the Spiral creative team, Ken is also employing his skills and talents as a filmmaker to chronicle the progress of the project through readings, workshops and all developmental stages of this powerful musical-theater work.