Table Read-Through
June 22, 2014
Halifax, Nova Scotia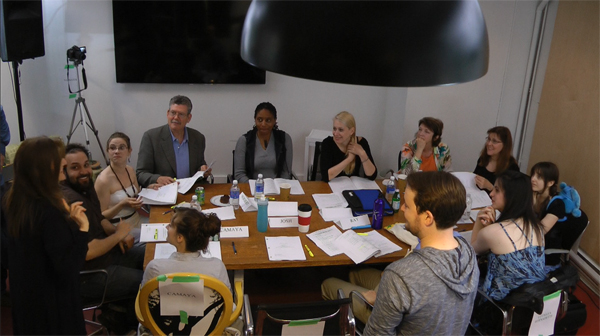 In our continuing efforts to prepare for a full workshop presentation of Spiral The Musical in early 2015 the creative team continues to write and tweak songs and script so we can improve the show and move it to the next level.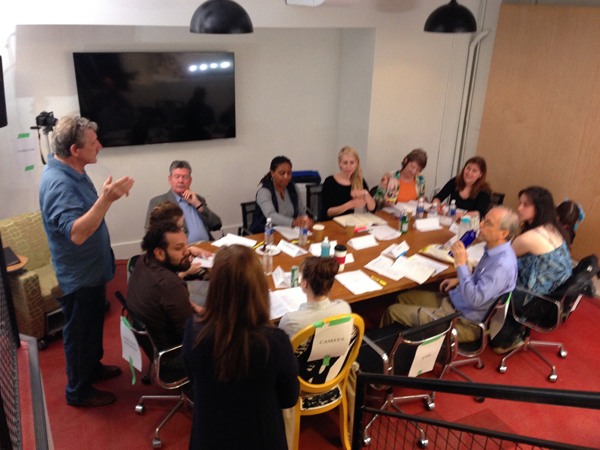 On Sunday, June 22, 2014 a successful read through of the current Spiral The Musical script was performed with actors at Egg Studios in Halifax, NS.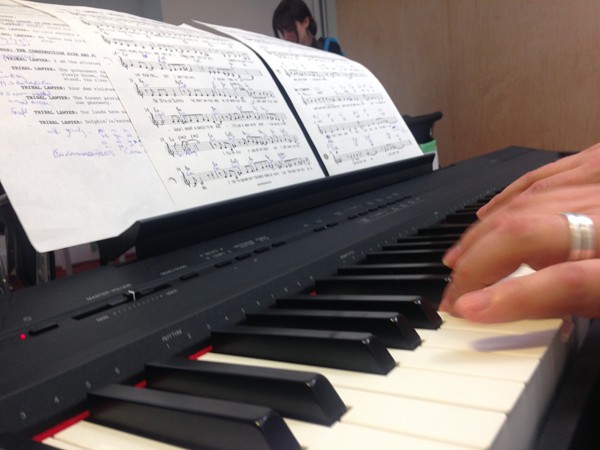 THE CAST CONSISTED OF:
Lesley Smith as Camaya
Jim Lindsey as Norbert
Diane Marie Carey as Lana
Joshua Young as Josh
Saundra Vernon as Shaman
Anne Stockdale as Vivien
Cate Ratcliffe as Bernadette & Luchaya
Pamela Rowe as Sondra
Barry Minshull as Ray
Nikki Timmins as Alex
Joseph Harfouche as Foreman & Reporter Lance
Christina Spruin as Reporter Janet & Children
John Lindsay-Botten as Tribal Lawyer, Accompanist & Vocalist
Steve Baker as Narrator of stage directions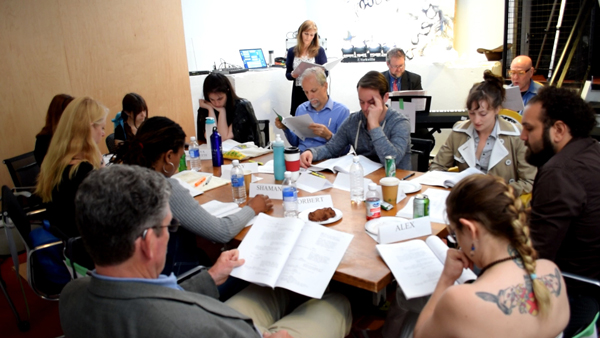 We took the opportunity in front of invited guests to read all the dialogue and to play demo recordings or sing all of the songs as a first time complete performance.
We would like to extend sincere and heartfelt thanks to our cast for the wonderful work they all did in presenting the show.
We would also like to extend our gratitude to Egg Studios for the space and Hennessey Casting for their efforts in finding such excellent talent.
We are also grateful to our guests who have given us valuable feedback.
A special thank you goes to Joshua Young who was instrumental in casting and helping to organize this event (as well as playing Josh). The read through would not have been possible without his wonderful skills, talent and dedication.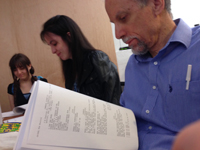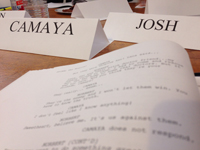 Message from Ken Petersen- Contributing Story Writer.
With all the new music and rewrites to our script that have been happening over the past while, I knew it was important to do another read through of the show. Obviously the best way to tell if your story and dialogue are working is to get trained actors to play the characters. It's a whole lot easier to hear what sounds real, the things that just don't land, lines that can be edited or cut and places where a scene would be much better sung than spoken.
So, immediately after our return from a rain forest trip to Ecuador, I went to work planning a table reading in Halifax, while Catherine remained in Los Angeles to continue co-writing music with Ben and Brenda. Needless to say it went very well.
Catherine and I are listening to the recordings and making more changes - in some cases, just minor tweaks, but also adding a new scene and moving a couple of scenes around.
The Halifax read through was really useful and fun! I can hardly wait for our next event so we can just continue making Spiral The Musical a super-awesome show. I'm also looking forward to organizing a Crowd-sourcing campaign that will provide the funds we need to present a staged reading before a live audience.